Welcome! We're Thrilled That You've Discovered Soothely!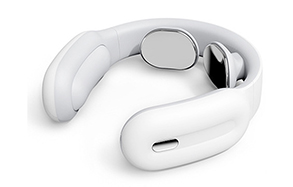 Are you tired of the regularly recurring neck pain and searching for the perfect neck massager? Look no further, meet Soothely! It is a highly innovative neck massager that uses heat and massage technology at the same time. Costly treatments and doctor appointments, plus medical prescriptions, do not always provide you with effective remedies. Soothely is an incredibly long-lasting investment that will give pain relief in minutes. This neck massager is perfect for athletes, savvy gamers, or anyone working on the laptop.
Treat yourself with Soothely neck massager and forget about expensive treatments!
What makes Soothely so special?
Neck and back pain tend to lead to many different health problems such as constant headaches, fatigue, or negative mood. Soothely neck massager is here to help out! It uses low-frequency pulses to stimulate your neck, heat and relax your sore muscles. Soothely has a very sleek and lightweight design allowing you to carry it anywhere you go. What's more, it has four massage modes to provide you with multiple choices for higher or lower massage intensity. Plus, it only takes 3 hours of charge for an even 8-hour long-lasting massage before needing to be charged. Get ready for pain, stress, and anxiety to melt away!
What our customers are saying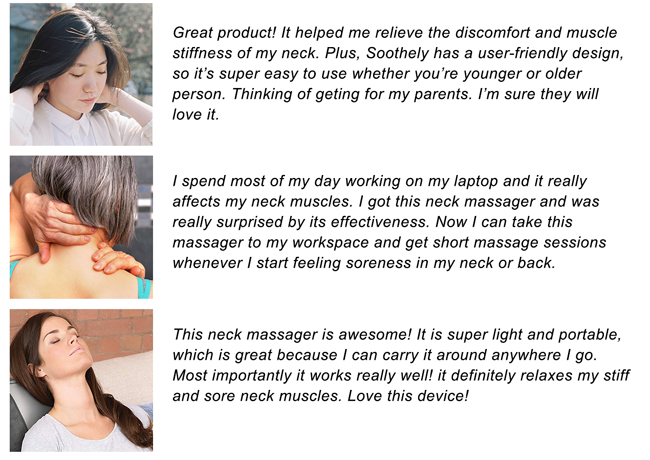 How to purchase Soothely?
Instant neck pain relief! For a limited time, Soothely is available 50% OFF!
Soothely can be purchased in 4 SIMPLE steps:
Choose your country from the list
Click on the "Buy Now" button
Fill out your shipping information
Let us take care of the rest!
« Click Here to Continue to Order Soothely in Your Country »